In this article, we give you an in-depth review of the top three land-based casinos in the Toronto area. Our casino enthusiasts and experts have spent multiple evenings at the different venues and below are their honest reviews of each of the Toronto casinos.
1. Casino Woodbine
Drive for no more than 25 minutes outside the city to find yourself at the Casino Woodbine. Located next to the old race track is this well known Toronto casino. The race track has been operating since 1956; the casino has been in operation for almost as long. At Woodbine casino, you will find the most popular table games such as three-card poker, Caribbean stud poker and Mississippi stud poker, along with other popular table games such as Baccarat and Blackjack. For the old-fashioned type of gambler, the offering also includes the classic Roulette and Live Craps. For slot machine enthusiasts, there are thousands of slot machines to pick from, including the new popular Game of Thrones slot game and Sphinx 3D.
Casino Woodbine also has a designated High Limit Gaming Toronto room for the high stakes gamblers. We observed a lot of participants, mainly elderly gentlemen, playing in these rooms during a Friday afternoon. We also noted that most dealers were fluent in both English and French. Furthermore, the casino offers a great customer reward program, free shuttle transportation for their dedicated customers and abundant parking space.
During these extraordinary times, the casino has taken extra precautions when it comes to hygiene. Hand sanitizers are up everywhere throughout the building. Other hygiene improvement measures include more frequent cleaning of gaming equipment, supplies and information to all staff regarding hand hygiene and further measures regarding the pandemic.
Important info about Casino Woodbine.
Age requirement: +19.

Location: 555 Rexdale BoulevardToronto, Ontario.

Parking: Free Parking.

Google Reviews Rating: 4.0.
Opening hours: Open 24hrs.
2. Fallsview Casino Resort
Being an hour and a half away from the metropolitan Toronto area, this stunning resort is undoubtedly worth the visit. Just read all the great reviews real visitors have given it, and you'll understand why it is found on second on our list of top casinos to visit.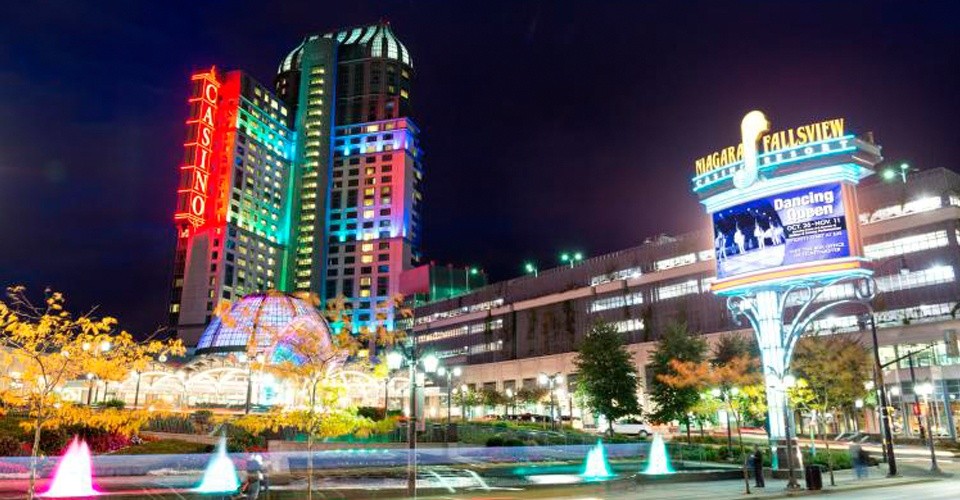 Established in 2004, the resort is the largest investment ever made in the Niagara region. It has received many recognitions due to its hotel and elegant gaming facility. With 100 gaming tables and over 3,000 slot machines, it is the perfect destination for any type of casino player.
When our team visited the casino floor, they were left speechless. The pulsing energy is there the minute you step foot on the floor. The 200,000 square feet gaming action filled with games like Blackjack, Baccarat, Craps and Roulette, as well as Pai Gow and Caribbean Poker, and a sea of slot machines, was designed to fit all your gambling needs.
If you're a high roller, you'd be pleased to hear that there are two rooms waiting for the most refined players, the Sapphire Room and the Salon Privé. You'd be granted the discretion and sophistication playing all kinds of classic table games, and wager with bets as high as five figures.
And then, of course, you have the VIP Services, there to attend to all your needs as a loyal player. Be it concert tickets, limousine services, or any other type of service you need, you'll be treated like a royal.
Important info about Fallsview Casino Resort
Age requirement: +19.
Location: 6380 Fallsview Blvd, Niagara Falls, ON L2G 7X5, Canada
Parking: Parking rates fluctuate.
Google Reviews Rating: 4.3.
Opening hours: Open 24hrs.
3. Casino Rama Resort
If you're looking for a place to play, dine, relax and stay at while in Toronto, Casino Rama Resort is the one for you. Designed to make your visit worth every penny, the resort offers a complete entertainment experience.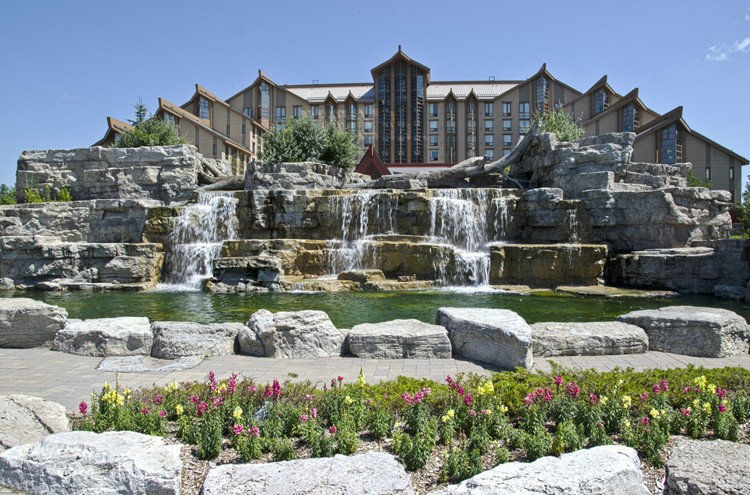 Casino Rama Resort is available to visitors for over 20 successful years, and as such, it knows how to provide you with the level of entertainment you deserve. Don't be surprised to see comedians like Jerry Seinfield, or icons like Jason Derulo and Carrie Underwood taking the stage and providing you with world-class fun while you're enjoying your stay.
But since you're interested in the casino sphere, let us tell you that there's an offering that you'll be fascinated from. Over 60 gaming tables and 2,200 slot machines, including progressive jackpot slots, are waiting for you at Casino Rama Resort. Whether you're a blackjack, roulette or poker fan, you'll see that you'll get plenty of variants to choose from. 9 poker tables, including Mississippi Stud and Texas Hold'em Poker, blackjack tables with progressive jackpot side bets and Craps are just some of your options. In case you don't know how to play a particular game but you'd want to learn, you'd be glad to know that the resort also offers learn-to-play classes.
Important info about Casino Rama Resort
Age requirement: +19.
Location: 5899 Rama Rd, Orillia, ON L3V 6H6, Canada
Parking: Free parking.
Google Reviews Rating: 4.2.
Opening hours: Open 24hrs.