The movie industry is one of the biggest and most profitable industries across the globe. Ever since the first-ever motion-picture film was created, the Roundhay Garden Scene in 1888, we've seen everything on our small screens and cinema. But, the most intriguing and controversial movies of all time are definitely movies about gambling.
Movies about gambling are a risk because they have to tell the story of a gambler who risks it all in order to play just that one round. And true, many of them portray the lead role ending up winning, but there's always at a cost of something. In the meantime, the protagonist's life always ends up a mess, and this is definitely not something everyone would like to see on their TV screens.
Yet still, there are so many remarkable movies about gambling, with incredible stories to tell, and exciting scenes from the casino floor. Canadian online casino players could learn a great lot from these movies, both positive and negative things, things that could help them up their game or make them consider their gambling habits. We've compiled a list of the best critically-acclaimed classics that are definitely a must-watch.
Casino
Casino is not only a number one movie about gambling but also an All-Time Favourite movie in general. Starring Robert De Niro, Joe Pesci, and the mesmerizing Sharon Stone, it tells you the story about a mob-controlled gambling scene in the Sin City of Vegas in 1975. A casino owner tied with the mafia, played by De Niro, and an enforcer with his own agenda played by Pesci, try to run a casino operation. Sharon Stone is the casino's owner wife, who also has a shady past.
Not to get into too much detail and spoil the movie for you, you should know that it is directed by Martin Scorsese, therefore, a movie that's more than worth seeing. It is vulgar, violent but at the same time incredibly masterful, so the first chance you have, make sure you watch it.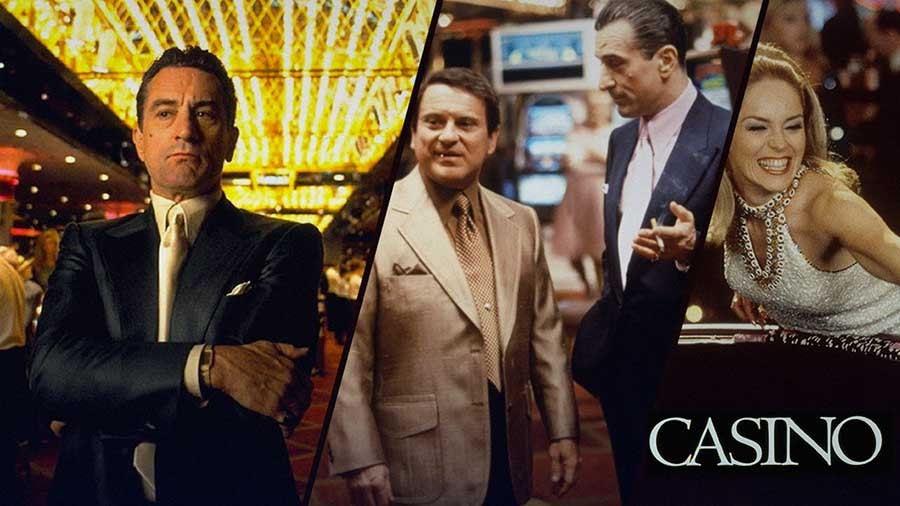 21
This movie is second on our list because it has a fantastic plot. A young and genius MIT student from Boston is in debt, trying to pay bills while dreaming to enroll in Harvard and become a doctor. Learning that he cannot afford $300,000 for four years at the prestigious school, he gets disappointed. That's when his unorthodox math professor introduces him to a small, secret club consisting of five other brilliant students. The professor has created the gang in order to train them to count cards in blackjack and hustle their way into winning across casinos.
Highly trained, the gang goes to Vegas and starts winning hundreds of thousands of dollars, counting cards, and sending signals to one another. Ben just wants to make enough to get himself through school, but his appetite increases, and he becomes corrupted by greed. The movie culminates when Ben puts himself, his group, and his professor at risk, due to this greed precisely. Spoiler alert, the movie is inspired by a real story, as a really MIT Blackjack Team, as they're known now, have really done this stunt with the card counting strategy. So, if you really want to know how it all goes in the end, make sure you watch the movie.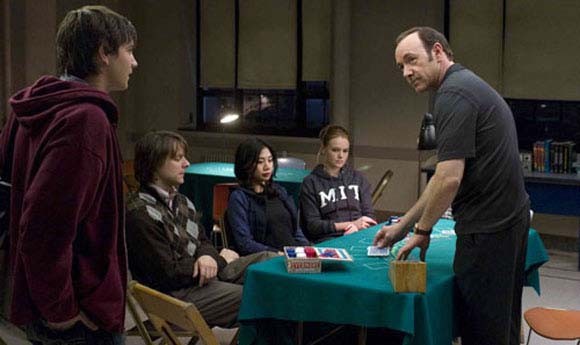 Rounders
Another great movie with a great cast. This time, we're taking you on an adventure alongside Matt Damon, Edward Norton, and John Malkovich. How's the sound of that? The movie is a bit different from the two before since it revolves around the high0stakes poker world. Fun fact: Matt Damon is actually a pro poker player in real life, too.
The thing is, with this movie, the plot is pretty straightforward. The main characters are drawn by the high-stake poker offer with its potential to win massive payouts. But, the movie revolves around the obsession with winning back what they lost, the cheating, and the lengths gamblers go to in order to achieve the impossible: chase losses and win back everything. The story can be quite emotional, as well, since the main character played by Damon, has a girlfriend to whom he swears he will go back to law school studies and focus more on their relationship, which he doesn't do, obviously. If intrigued by what you know so far about the movie, put it on your list to-watch-next. It is definitely worth the watch.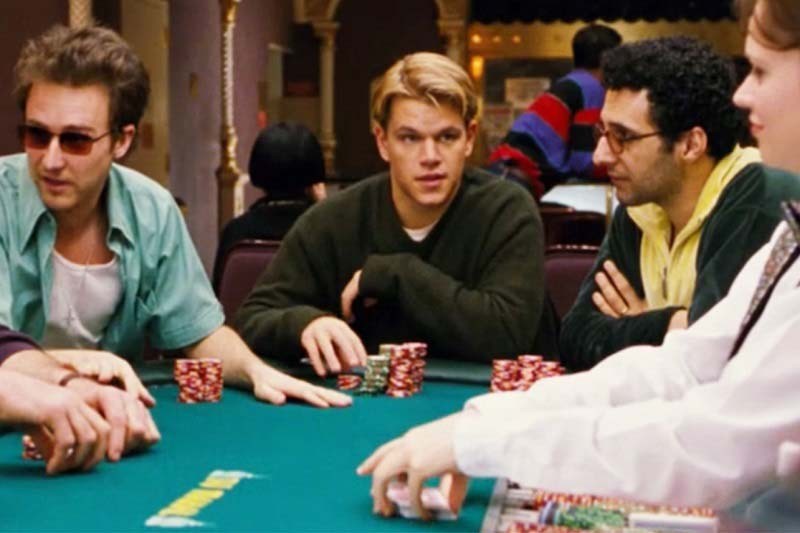 The Gambler
This is an old movie, premiered in 1974, yet still deserves all the credits. It is about a guy, Fred, who seems to have it all, a great, insanely beautiful girlfriend, a loving mother who is, in fact, a doctor and a super-wealthy grandfather. On top of that, he himself is handsome, intelligent, with the world at its feet. The only problem is, he also has a serious gambling problem.
The movie portrays the negative aspect of gambling and the one that has affected many lives throughout the years. It tells you the story about a man who has it all and sees his life spiral out of control due to gambling addiction. Consequence after consequence, he starts losing precious things in his life, but that's what excites him even more. He loses all of his money, puts his life in jeopardy, but does not stop gambling.
As such, The Gambler is a movie worth seeing. Most movies about gambling are portraying the shiny, the exciting, the luxurious picture of gamblers leading high-class lives. But this one right here, it tells the truth. It shows exactly how your life can change if you do not practice responsible, moderate gambling.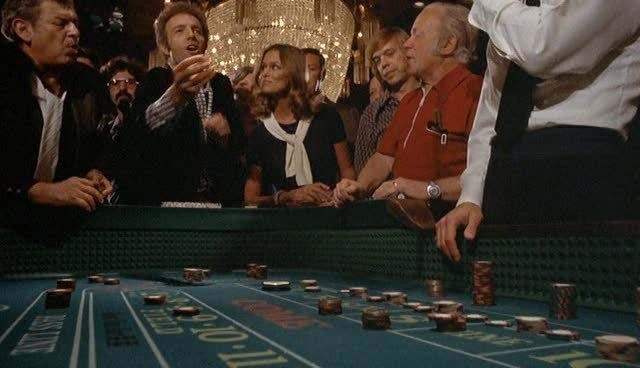 Casino Royale
Of course, we needed to mention a James Bond movie, because we all know that this iconic movie character does love gambling and is pretty good at it. Now, while the character was played by many incredible actors, it seems like, with Daniel Craig, the franchise made a boom. Especially the movie Casino Royale. Critics claimed it was a near-perfect James Bond movie, but we would add that it is also one of the best movies about gambling.
Essentially, Casino Royale is about Bond trying to catch Le Chiffre, a terrorist organization financer, while playing a high-stakes poker game against him. The action takes place in Montenegro, at the well-known casino Casino Royale, and will keep you on the edge of your seat the whole time. Especially that scene where Bond takes on his enemy on an incredible showdown in an all-or-nothing game. The scene is literally jaw-dropping and the intensity of the atmosphere really breath-taking. This is maybe the most intense moment in recent film history and one of the most unforgettable scenes in a James Bond movie.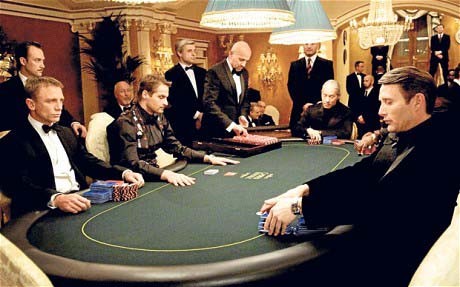 Oceans's Eleven
As a heist comedy film, again starring Matt Damon, but this time accompanied by George Clooney, Andy Garcia, Brad Pit and the magnificent Julia Roberts, directed by Steven Soderbergh, Ocean's Eleven has got everything you need. It has Hollywood elements, it has humor, and of course, it has all your favorite actors in one place.
And, as introduced, the movie is about a huge heist, where Danny Ocean and his accomplices try to rob three Las Vegas casinos at the same time! If you want action, this is where you'll get it, because naturally, things get complicated when you're trying to rob three casinos simultaneously. Add to that when you're trying to rob a gambling mogul who is married to your ex-girlfriend, and you have the recipe for disaster. But will Ocean succeed maybe? It is up for you to discover after you watch this fast-paced, amazing movie.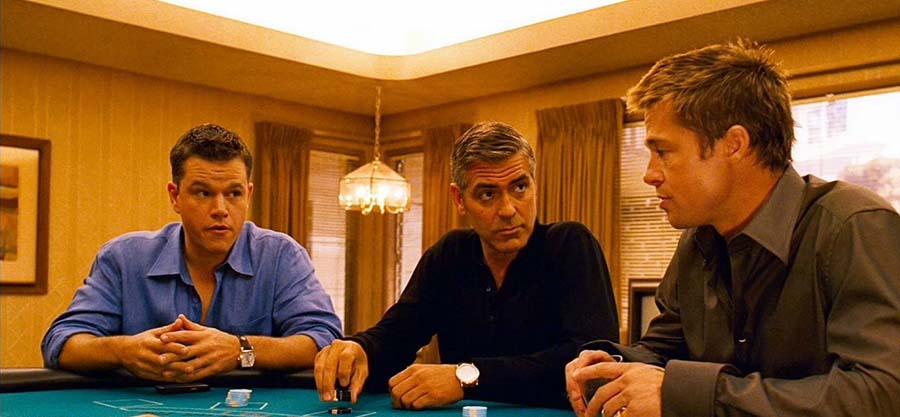 Casino Welcome Bonus
C$ 1000 + 300 Free Spins

Casino Welcome Bonus
C$1200 + 50 Spins

Casino Welcome Bonus
100% up to C$1600