The excitement of playing an online casino game is one thing, streaming it live so that others can see how much you win is another thing. With the advance in technology, so many new trends have appeared on the internet, and one of them is streaming your gaming, and gambling, experience.
This trend seems to have become a frenzy and is nowhere near to an end. Players love sharing their experience with others and continue playing their favourite games via a live stream so that they could get encouragement and comments by viewers and raise their popularity on platforms like YouTube and Twitch.
The online casino players that stream their big wins come from all across the world, Serbia, Germany, and even Canada. Therefore, as a Canadian player, you could join an online casino and stream your big win, too. But first, check out some of the biggest wins streamed for 2020, by players across the globe, and see how much you can win and which game can deliver that win to you.
The Mega Win on Dead or Alive 2
Dead or Alive 2 is the sequel to NetEnt's mega-hit Dead or Alive. Its win potential is 2,500x the stake, should you get to land 5 Scatters, and should you go through the Free Spins bonus game, you could scoop over 100,000x the stake win.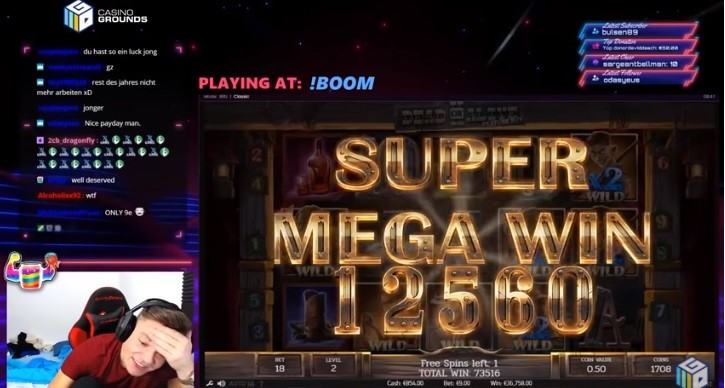 It seems like JamJarBoy got as closest to that payout as possible. The guy managed to trigger one of the three Free Spins modes, the highest in volatility, High Noon. He landed Wilds and Wild Multipliers and continued receiving Super Mega Win payouts. The Wilds were held on the screen and he continued landing new wins to get to the huge payouts and for a really small bet of €9. He was winning over 12,000 coins per spin, and in total, managed to scoop 73,516 coins, which translated to a mind-blowing payout of €43,098.
Mammoth Win on Primal Megaways
Blueprint Gaming's Primal Megaways has created many big winners during the two years since it was released. It is a slot that can deliver up to 50,000x the stake, should you trigger the right features, for a small bet of €10. The biggest wins arrive during the Free Spins. This is when you get Multipliers of up to 6x, which can multiply by each other! The max Multiplier can be 120x!
Two British guys streaming their playtime on this incredible slot managed to scoop a win of €16,200 for a €5.00 bet. They managed to land so many matching symbols at once, and thanks to the Megaways mechanics, those symbols counted for 25,920 ways to win. The two guys won their Mammoth Win when they least expected it, having no clue what and how it all really happened. They were in shock, as you can see from their reaction.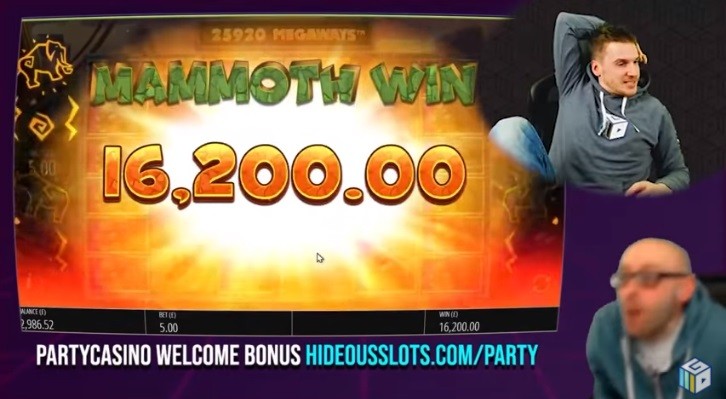 Crazy Time for Crazy Wins!
Who says that only slots can deliver enormous wins? Have you tried Evolution Gaming's Live Casino game Crazy Time? It is not your regular Live Dealer game of poker, blackjack or roulette. No, it is a TV game show-style game, which has a huge Wheel of Fortune that the dealer spins and you win cool prizes from. You can trigger four bonus rounds, the Coin Flip, the Cash Hunt, the Pachinko Bonus or the Crazy Time bonus round. Each of the rounds offers its own game you need to play, but the most fun and rewarding one is, of course, the last one.
Slotgentel streamed himself while playing it, and managed to trigger the Crazy Time Bonus Round. This is where prizes of up to 20,000x the stake can be won. The wheel stopped on the Double field first. Then it stopped on the 1,000x Multiplier. The final result of the spin? Well, the guy scooped €8,008! That's a major win on a Live Casino game, and one worth mentioning, considering it was achieved with the aid of Multipliers and for a small bet.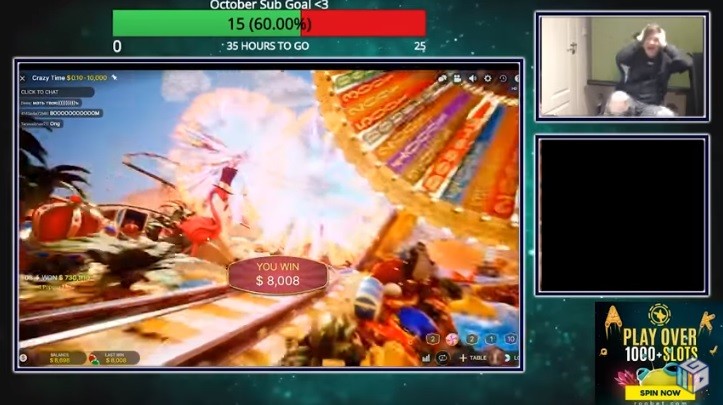 Money Train 2 Really Delivers!
As introduced, players from all across the world are streaming their big wins. A German player also caught his huge win on camera. We couldn't understand what he was speaking, but we most certainly understood the game he was playing and how he managed to grab his win. He was playing Relax Gaming's Money Train 2 slot, a slot known to deliver whopping payouts. With a betting range from €0.20 to €25, this incredible slot can pay out 20,000x the stake. Check out the explosive win the German player won.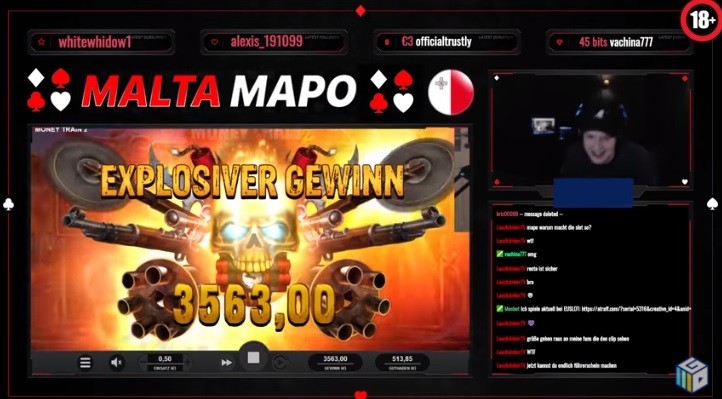 He managed to land trigger the Bonus Game, where each symbol has its own behavior. Each symbol either delivers a prize Multiplier or comes with an extra feature that would take you to the most incredible wins. The player here managed to land the Widener and got an additional reel plus a prize. With that, he got a chance to land more symbols, with more rewarding features or prizes.
Luck being on his side, the German player watched as the total payout reached €3,563! What an explosive win, really!
With the Rise of Merlin Arrive Magic Wins!
Play'n GO's Rise of Merlin has become an increasingly popular slot nowadays, even though released last year. It can be played for bets from €0.10 to €100, but it can deliver payouts of up to 5,000x the stake.
Its magic happens when you trigger the Free Spins. There are no limits as to how many times you can retrigger them. The guy via the channel CasinoLandStreaming can certainly guarantee you that. This guy had one of the longest on-the-edge moments, and one of the most interesting streams we've seen.
This lucky guy managed to trigger 8 Free Spins first, with a White Dragon as a Special Expanding Symbol. Before the Free Spins start, a random symbol gets to be an Expanding one, and the one that was randomly chosen for this guy was the White Dragon. The White Dragon is the third-best-paying symbol in the slot, hence, the massive win at the end of the round.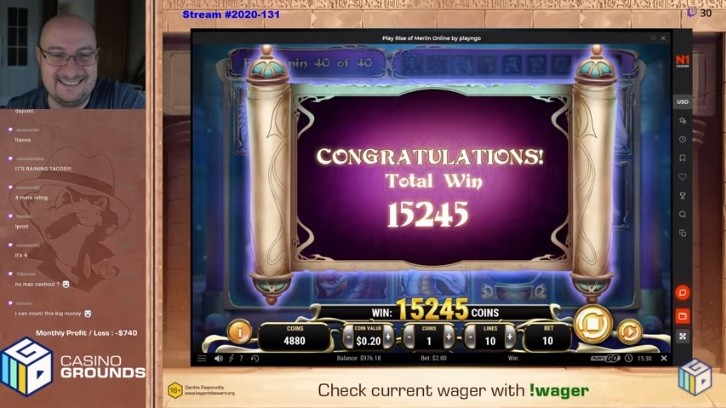 What happened was, the player continued landing Scatters and retriggering the Free Spins and got many Expanding Special symbols during those retriggers. The Special Expanding symbols were changing with each retrigger. He landed a screen filled with Q symbols, which were then the Special Expanding Symbols, and a screen filled with White Dragons in the meantime.
He ended playing 44 Free Spins with the Owl as the Special Expanding Symbol, which is the fourth-best-paying symbol. When the Free Spins ended, finally, as we may add, the guy had a 15,245 coins win. That translates to 1,525x the stake, meaning €3,049 for a €2 bet! What excitement really! The guy waited for minutes to see the final result, considering the Free Spins kept retriggering, but it was more than worth the trouble!
Battle Maidens: Cleopatra Massive Win
1x2Gaming released Battle Maidens: Cleopatra slot with 1,024 ways to win in September 2020. And it has already given a huge win. The slot can actually deliver up to 10,000x the stake and is a medium volatile one. But thanks to its many ways to win, it has made Daskelelele or Jack, the happiest guy on YouTube.
Jack, as you can see from his stream on Jack's Gambling Channel, managed to trigger the Free Spins and reach a 3x Multiplier thanks to the features involved. When the Free Spins started, he managed to land three Expanding Wilds first. He continued creating winning combos, which were tripled. So at the end of the Free Spins, his total was €2,938.95. Mind you, he won that much for as little as €1.50!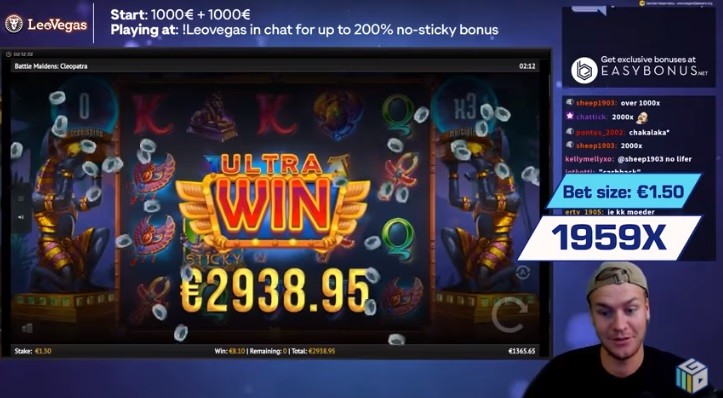 Fruit Party Juicy Win
Pragmatic Play released Fruit Party in 2020, too. It is a classic fruit-themed slot with an unusual 7×7 grid, involving Cluster Pays mechanics. In total, it can deliver 5,000x the stake, and it can be played for up to €100. A guy from the Balkan, probably from Serbia, called Marko, streamed himself from its MarkoSlots channel while playing the game, presenting to the world that he had won a sensational €1,751.82 win. He was playing for a €1.40 bet. That's like $2.17 in Canadian dollars!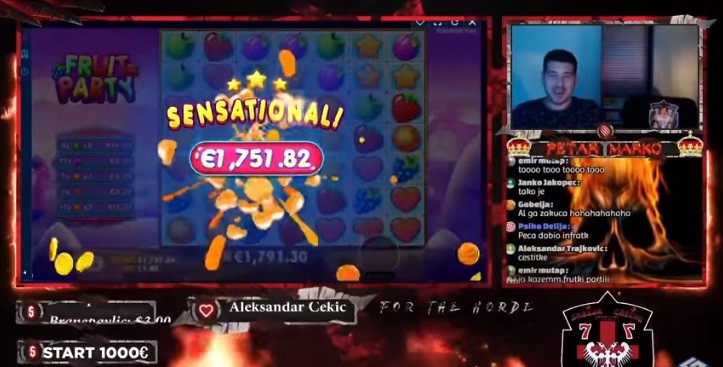 What happened is, he triggered the 10 Free Spins. The symbols continued creating winning clusters and he continued scooping multiplied wins. He sat there and watched as the euros kept appearing, and was more than satisfied to see the total of €1,751.82!
Dare to Spin to Scoop a Major Win?
The described wins were made by real players, and streamed on YouTube. If you don't believe it, try finding them on the platform and you'll see. The games cannot be rigged or tampered with, considering they are all running on a Random Number Generator. Therefore, these guys, the winners, couldn't have faked their wins in any way.
You, too, have a chance to win such amazing payouts for really small bets. As a Canadian player, you have hundreds of online casinos you can join and play some of these games or others. Each spin can give you a huge win when you least expect it. Plus, you can play with your own currency, not with euros, as seen here. Therefore, you won't need to do much, all you have to do is spin and hold your breath until you get your own massive win! Fingers crossed!

Casino Welcome Bonus
C$1000 + 200 Free Spins

Casino Welcome Bonus
CA$1,000 + 100 Free Spins

Casino Welcome Bonus
150% up to C$150